1

Comments
Published by Cedric Benetti on Thursday, March 13, 2008 at 3/13/2008 11:21:00 PM.

Another great afternoon in a somewhat rainy Paris, with dear Nirit, wandering around the Tuileries and stopping by at Angelina*s, my favorite Belle Epoque tea-room.
Angelina*s opened in 1903, under the family*s name of "Rumpelmayer" and quickly became the chic place for Paris gourmets.
The Rumpelmayers were a great family of Austrian pastry-cooks. Their sweetmeats were such as success that Antoine, the father, opened this first shop for making and selling pastries in Germany in Baden-Baden. Then following high society which, in winter, frequented the French Riviera, he set up a shop in Menton and in Aix-lex-Bains in the French Alps.

The Paris tea-room, beneath the Rue de Rivoli arcades at number 226, was founded by his son. It was renamed Angelina in honour of his wife and was soon frequented by the elite of customers having good taste who built its reputation. The famous fashion designer Coco Chanel and the writer Marcel Proust used to take their 5 o'clock tea there. King George V of Britain had his own engraved glasses there. Today, artists such as Catherine Deneuve, Britney Spears (please no! but then again, she must be getting fat somewhere, right?) are regular customers.
One should come as soon as it opens while the tea-room is still quiet and almost empty. The unchanging ballet of waiters then begins. The setting has remained almost identical for nearly a hundred years. Only a few Art Déco chandeliers were added around 1930. In the afternoons, the waiting lines can get quite long (usually, you can get a table easier if there*s only 2 of you).


Today, the tea-room still holds a few private events. Cocktail parties, birthday parties and society evenings are sometimes held there. Jean-Paul Gautier and Karl Lagerfeld have followed Mademoiselle Chanel*s example. Angelina's saw numerous new fashion designers making their debuts such as Herve Leger, Torrente and Michel Klein. So as not to disturb customers too much, the fashion parades take place in the morning. A few tables are removed from the restaurant and the models can present themselves to the public.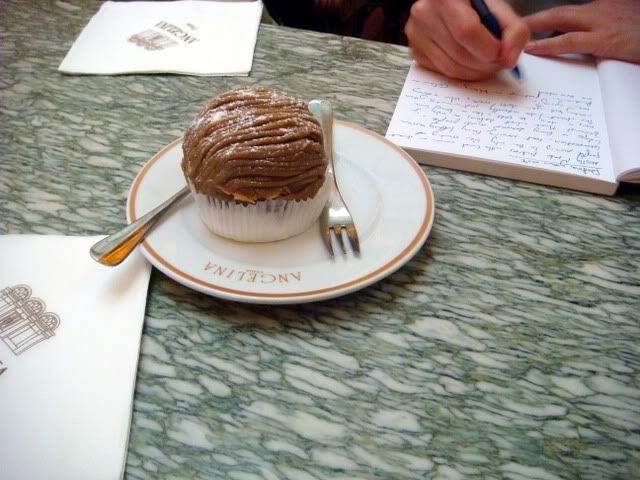 Hot chocolate and "Mont-Blanc" (gaaaahhh, Mont-Blanc! mmmmh) pastries are the two most popular delicacies and the ones which are ordered the most. Although this palace has become a veritable institution, it still keeps its recipes secret. The thick, frothy beverage is served in a hot-chocolate pot, accompanied by a jug of whipped cream to complement it.

The Mont-Blanc pastry comes from the Italian Alps. It consists of meringue, whipped cream and sweet chestnut cream. Many other pastries here will delight gastronomes such as the fragilité made of macaroon pastry, almond sponge cake and pistachio butter-cream, the Colombien, made of coffee ganache or the Opéra which is another refined chocolate and coffee cake.
Oh, and people-observing is always fun...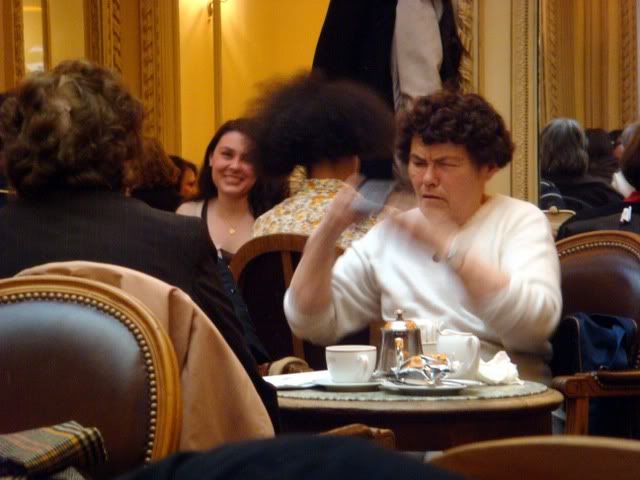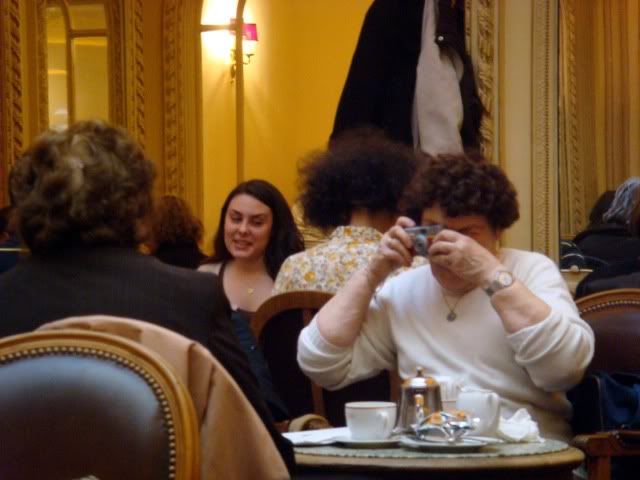 Labels: FASHION, like buttah, Paris street stuff (NOT a TOILET)