0

Comments
Published by Cedric Benetti on Saturday, May 24, 2008 at 5/24/2008 05:29:00 PM.

...
AKA as Pont Alexandre III, was built between 1896 and 1900. It was named after Tsar Alexander III who had concluded the Franco-Russian Alliance in 1892. It was Alexander*s son Nicholas II who laid the foundation stone, and the bridge got finished on time for the Paris World*s Fair in 1900.
It is indeed one of the city*s wackiest bridges, with its exuberant Art Nouveau lamps, cherubs (you know, those fat ugly children), nymphs and winged horses at either end and a whole menagerie of creepy sea-animals scaring you regularly when you pass it at night.
And the tourists love it. Possibly because of its kitschy colors and the hopelessly baroque-romanticism that surrounds its aura. Possibly also because it is one of the few bridges that looks different from the general pool of parisian bridges (stones and arches...).
Four gilt-bronze statues of
Fames
watch over the bridge, supported on massive 17-meter socles, that provide stabilizing counterweight for the arch, without interfering with monumental views.
The wonderfully kitschy lamposts. Note the oddly shaped little lightbulbs shaped like condoms.
The founding plate of the bridge.
Ok, this I found was quite interesting: since the bridge deals with water, the iconography of it is filled with representations of water-related objects and icons, such as shells and seacreatures, but you may also note that the very stone the bridge*s sides are made of, contains an impressive number of integrated shells in itself if you take a closer look.
The only sad thing is that this stonework is quite porous and the weather and the air pollution over the last century didn*t quite treat it as well as it should have, so the stones are starting to crumble, which also adds to the bridge*s romantic charms.
The stone is almost disintegrating in front of your eyes.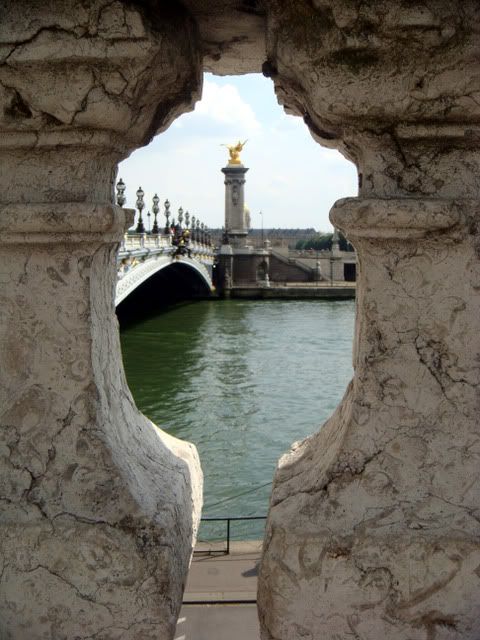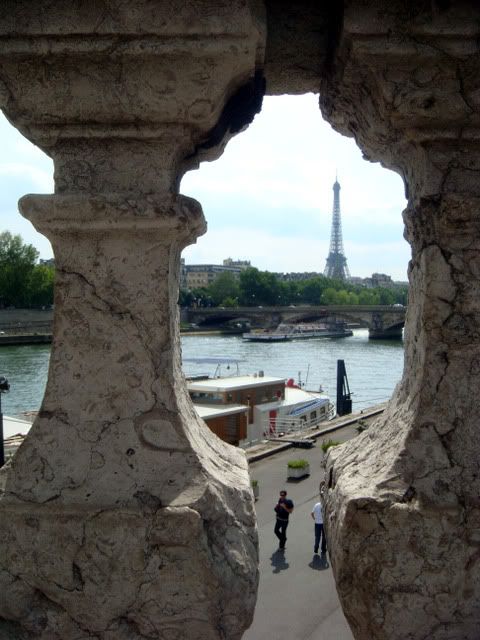 The fact that so many tourists lay hand on the stone adds also to the shinyness of its surface, and brings out the shells very well. Wonderful maritine aspects on the whole stonework, which is only present on the four cornersides of the bridge, since the rest of its structure is a metallic one.
Look at the impressive and sometimes grueling array of sea creatures present on the bronze sculptures, such as these fish, ready to bite your ass off.
Or these slimy frogs just underneath one fat putto*s legs...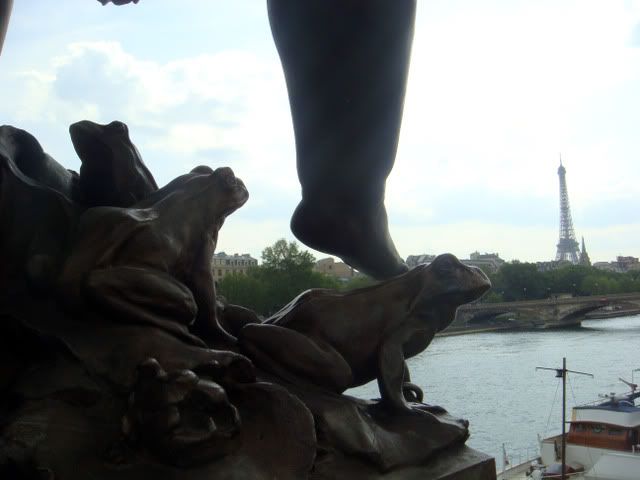 My favorite one is this creepy crab... you know why?
Because some idiot put a lock on his legs. Excellent! Love the crabs! Let*s see if you can spot my friend crabby and its magic lock next time you make your way across Alexandre III...