0

Comments
Published by Cedric Benetti on Sunday, May 25, 2008 at 5/25/2008 01:32:00 AM.

W
hen the Jewish community got expelled from Paris around 1400 AD, they settled down in the Marais area ("Swamps"), which was at that time just outside the city boundaries.
The community came along way and established a great variety of shops in the streets of the "Pletzl", especially in Rue des Rosiers, where traditional butchers, jewish bakeries, falafel restaurants, sweetshops and other small businesses established themselves next to synagogues built by Hector Guimard and art deco facaded public baths.
But as time has it, values change to profit and your favorite "shop around the corner" has to turn into a high-end fashion boutique, to the great pity of the local residents and also to myself.
I just love that street and the somewhat vintage authenticity it reflects. The handful of surviving jewish shops have still a curiosity flair, and little old grey haired ladies sit behind a glass-topped counter with a massive old cash register, watching you closely behind their thick-framed huge glasses as you browse for the unknown.
I*ve witnessed the narrow medieval streets turn from a car drenched funnel into a semi-pedestrian area, which of course added to the climbing of the market value of the shops, and therefor to their closing and switching from your favorite bagelstore into a fashion boutique for anorexic girls.
A public bath house turned into a cappellini design furniture store, which of course I loved, because it was something quite exclusive. But the now closed design store might soon turn into an H&M store, which to my opinion doesn*t even fit into the current identity of this neighborhood, still in the search of finding itself a new identity, but keeping parts of its roots upright.
There is a lovely little falafel place (Chez Hanna) where I usually can be found on a saturday evening, dining with Delphine, munching the town*s best falafels with orgasmic delight. The street counts a big amount of other such places, but some of them might already have closed down. How long will it take for my favorite bakery and delikatessen store,
Florence Finkelsztajn
, to get turned into a mid-range fashion store? I swear their bagels are what gets you closest to heaven in taste, and their vatrouchka cheese cakes are absolutely worth any possible detour.
A protest group regularly stages demonstrations to save the street*s soul from the gentrification that is turning the community of Jewish shops into a touristlike environment.
The problems started when Paris's most famous Jewish restaurant and delicatessen, Jo Goldenberg*s, shut down. Until the late 1990*s it attracted government ministers, film stars and celebrities dining on caviar, herrings, goulash or its famous chopped liver. Goldenberg*s was symbolic of a neighbourhood where thousands of eastern European Jews arrived from the late 19th century, and which was the focus of Nazi round-ups during the occupation of Paris in the second world war. More than half of the local Jewish community would die in concentration camps.
The restaurant founded by Jo Goldenberg, who lost his parents and all his sisters in Auschwitz, became a symbol of resistance and revival, a meeting place for Holocaust survivors and former resistance fighters. In 1982 it was targeted in a grenade and gun attack in which six people were killed and 22 injured. The entrance to the restaurant bears its grenade marks up until today.

After changes of management and hygiene reports, the restaurant has been shuttered since 2006. I couldn*t even get a chance to eat at this mythic place. Thumbs up to the protest groups, who apparently managed to keep McDonalds from opening here in 2000. The problem is that big international groups start offering huge sums of money to buy off the locations from the old generations who have been established here for so long.
It seems as though not the whole array of "yiddishkeit" on this street has gone down the sewer. Lots of shops still subsist, such as bakeries and libraries and some excellent delicatessen stores.
Inside the Finkelsztajn Bakery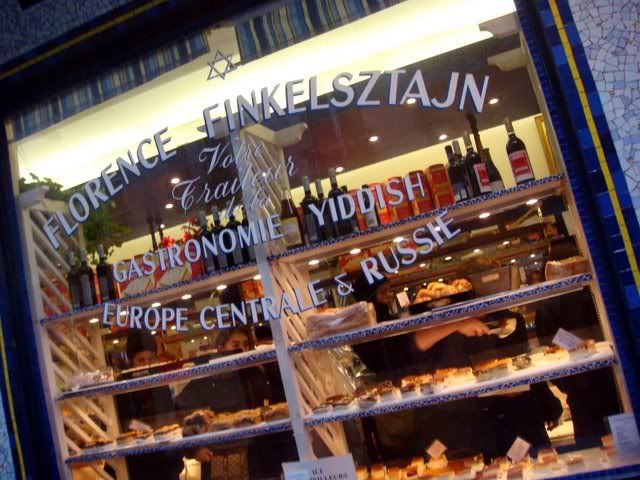 Goldenberg*s at it*s better days...
...and what it looks like today.
I swear this sign on Korcarz*s delikatesssen store reads "sushi bar"! What*s happening here?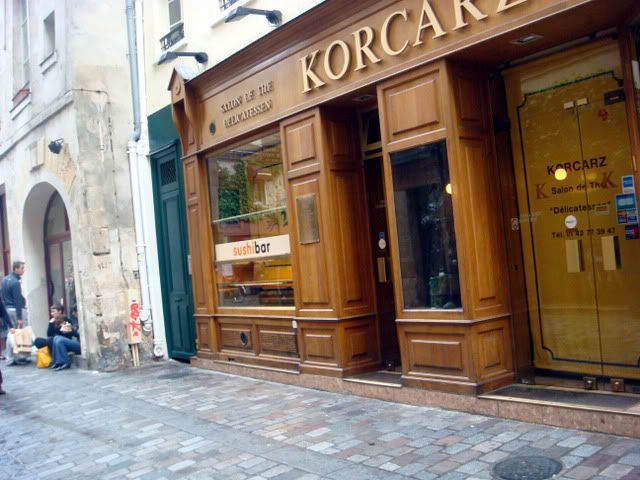 For more pictures, check out this older post of mine for Hanukkah.

Labels: gentrification, paris history, Paris street stuff (NOT a TOILET)